Thunderyu: The Fiery One and The Icy One are dead, what now (yeah, I want to see if it meens something to it)?

Mark: Did you formaly release Mew? Because if you didn't it'll be much easier to 'collect' it.

(All of Mark's Pokemon): What would you choose to do if Mark Decided to quit Pokemon training?
---
Please check out my Fan Fics (They're in this forum).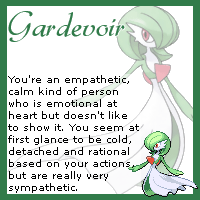 I'm not always rational, but I think people think I am.
… errazib nialp tsuj era serutangis emos ,wonk ouy.
Buisle is the ruler of the seven seas of sand, it is the terror of all Floatzel!
Man, I wrote Fics of three different Pokemon story types! What's next?! A wild Pokemon fic?! Hmmmmm…
[03/10/2009 05:19:21]