Disable commentary · Printable version
The Quest for the Legends (ILCOE)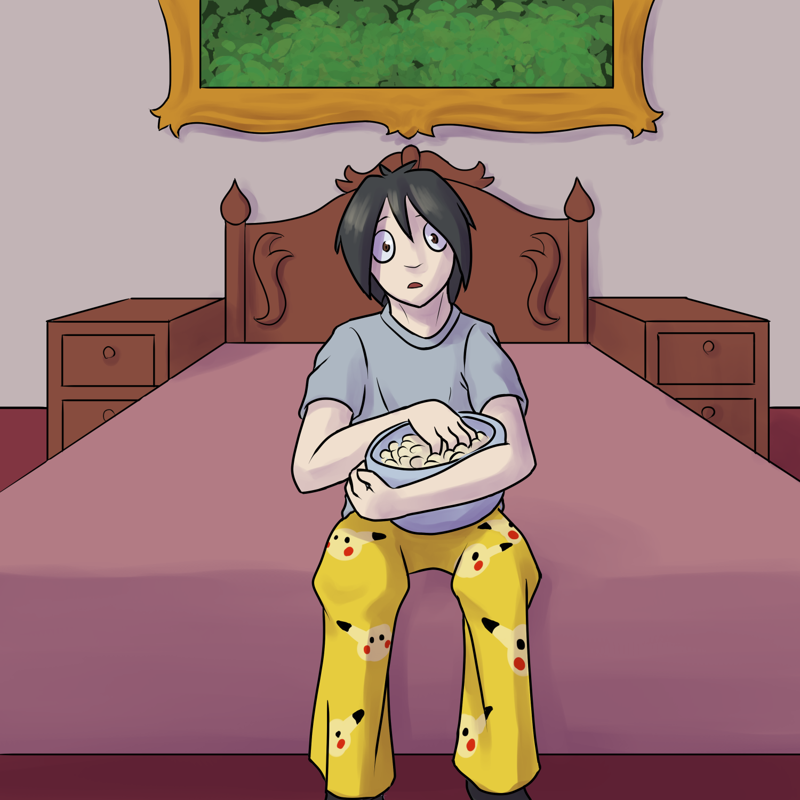 Chapter 67: Friends
"No, I'll definitely help. I'm not finding much of anything here anyway. Where are you right now?"
"Scorpio City," May said.
"Right. Felix has never been there, so I can't Teleport to it – think you could meet me in Acaria City tomorrow? I think that's closest, anyway. Or I can come towards you and we can meet up on that route in between whose number I can't remember. God, it's been way too long since I was in Ouen."
"Acaria City's fine," May replied. "We were thinking of going there anyway – maybe getting its assistant Gym leader to help as well, since he already knows a bit about what's going on."
Leah paused. "Wow. Chaletwo's really gotten lax with the whole secrecy thing, hasn't he? When it was just me, he was all 'no one must know or there will be memory-wiping'."
"We didn't exactly tell him," May said. "You know Mitch and how he's psychic? He knew Chaletwo was up to something, and apparently he told Victor. That's basically all he knows."
"Mitch's psychic? I thought he was just weird and lonely."
May snorted. "No, apparently he foresees stuff. Didn't believe it either until he knew about Chaletwo."
"Huh. Anyway, I've also got Mary's number – if you don't know her, she's the second legendary hunter and she's pretty cool. I think she's been looking for the Waraider herd since catching Articuno, so she might have some leads. I'll call her too, see if she can meet us there."
"Sounds good. Tomorrow morning in Acaria City's Pokémon Center, then?"
"Yeah. Great, see you then."
May hung up her Pokégear and returned it to her bag. "Well, that's that sorted. While we wait for the guys, there are some bookshelves over there, so –"
"May," Robin interrupted. "We should talk."
"What?" May turned towards Robin, her mouth abruptly dry. The Pokémon Center was mostly empty, with the few other patrons scattered around the waiting area, out of earshot. She didn't know if that was a good thing or not.
"I think you should go to the police." Robin's gaze was firm and unyielding, and May forced herself to return it. "If you tell them what really happened, they might even be able to track your Tyranitar down and have him confirm it. If he really attacked on his own, he can tell them that. It's not fair to Rick that he doesn't know how his brother died, or to the wild Tyranitar that people are being warned about them when they did nothing wrong."
She felt bile rising in the back of her throat. In a flash, she imagined the Pokémon Center on fire, people running and screaming, Robin stuck inside and –
She took a breath, closing her eyes and opening them again. "Why would they even believe what Tyranitar tells them?" she said. "I trained him. He thought I was his mom or something. If I'd told him to lie he'd do it. It wouldn't mean anything."
Robin winced, shifting on her feet, but her gaze only wavered for a moment. "Maybe, but they're not going to just assume you did it on purpose, at least not if you come there of your own free will and explain what happened. You should have done that right away, but the longer you wait, the more suspicious it looks. You're only making things worse for yourself. Why are you still trying to hide that it was him?"
May gritted her teeth. "How about because we're trying to catch some legendaries before they destroy the world?"
"It wouldn't have to set us back that much," Robin said. "You'd be interrogated, but I don't think they'd have any reason to detain you or anything if you just tell them the truth. Even then, we're about to get more people, so if they wanted you to stay in town while they're investigating or something, we could always go fight the Waraider herd and come back for you when –"
"No." Her fist was clenched so hard it hurt. Why couldn't Robin just leave it –
"May," Robin said, eyes still steady. "You look suspicious right now. He died just after you lost to him, killed by a Pokémon that you used to have until you suddenly released him around a similar time. That's a pretty amazing coincidence. Don't you think somebody might look into that at some point?"
"They've got nothing. For all they know I released him because he lost and then he went off to take his own revenge. They can't prove anything."
"Not prove, maybe, but somebody has got to be wondering. If they conclude you were involved and confront you, how much worse is it going to look if you've been trying to hide it?"
"They're not going to," May said, her voice hard. "All right? They have no solid reason to think it had anything to do with me, so long as I don't waltz in there and tell them."
"But I just –"
"And even if," May interrupted before she could finish that sentence, "even if they came after me, Chaletwo said he'd handle it. There's nothing to worry about. Okay?"
Robin stared at her for a long second before taking a deep breath. "Okay," she said. "That's fine. I was just thinking."
"Maybe we've already thought about it," May said coldly. "Did you think of that?"
"I guess not." Robin looked away, finally, sighing. "Forget it. You said they had books?"
May inhaled, unclenching her fingers to point. "Yeah. That way."
-------
When the group finally entered the Acaria City Pokémon Center the following afternoon, they found Leah slumped on one of the red sofas, fast asleep.
"Leah?" Mark said as they approached her.
She started awake and blinked at him. "Oh, hey," she said, rubbing the sleep out of her eyes. "You took your time."
"Yeah, sorry, our Pokémon were a bit out of it after the fight yesterday," Mark said. "How are you?"
"Fine," she said. "So you were going to talk to that Victor guy?"
"We're leaving our Pokémon with the nurse first," Mark said. "Do you want to come with us to see Victor?"
"Sure, why not?" Leah yawned. "Oh, yeah, I called Mary, but she said when she went to the Sailance library to research them, Ryan was there – he's the third guy, guess you haven't met him – and he'd just been nerding over them for months and developing some formula or something? At least, she thought he seemed to have it more or less covered, so she went back to looking for Mew. So I figured we'd just go join up with him in Sailance instead. She gave me his number, and I called him, and he says he's very close to some sort of breakthrough and thinks he can try to finish it in the next day or two."
Sailance. The very mention of his hometown sent butterflies fluttering through Mark's stomach. It really had been ages since he'd been home, hadn't it? The idea of going back seemed intangible and strange.
"Who said you were calling the shots now?"
"Nice to see you too, Chaletwo," Leah said, rolling her eyes.
"Did you not hear that we're going to fight the Waraider herd and try to capture them simultaneously? We need more people. Ryan is good, but Mary is better, and best of all would be both of them."
"Oh, come on," Leah said. "She's in Sinnoh, and she can't teleport anywhere in Ouen. Meanwhile, with just Ryan there'll be three quarters of us for each unicorn, and apparently you want to get some Gym leader in on it too? If he even has any good Pokémon – aren't they supposed to keep them low-leveled?"
"Look, don't you get that this is going to be the hardest battle by far? There's eight of them, and we have to do it with precision, because if one of them faints before they should, we could have a nightmare on our hands. Perhaps the six of you could pull a victory, but we have a much smaller target here than just victory. This is going to be difficult, and frankly I'm not sure it even can be done."
Leah took a deep breath, folding her arms. "Remember what you said to me when I was starting out?" she said. "About it being okay to run? It's still okay to run. If we're not about to make it, we pull out. Mary could take weeks to get here. If Ryan really has figured out how to find them, we can take a shot before that and see how we do. Even if we fail, we'll only be better prepared next time. There's no reason not to."
"I suppose that's true," Chaletwo said reluctantly after a moment of silence. "But then we should definitely try to get those Gym leaders. Victor is right here in the city, and visiting Stormy Town and Crater Town shouldn't set us back much."
"We're involving three separate Gym leaders?" Leah said, raising her eyebrows.
"They tried to get Mitch too, but apparently he wasn't around," May said.
Leah whistled. "They weren't kidding about you relaxing on the secrecy."
"I'm sure this is all deeply hilarious to you, but I for one don't see the humor in it. I'd rather not involve more people, too, but we're pretty desperate at this point, and as it happens they already know bits and pieces, so it'd be wise to keep an eye on them."
"All right, all right," Leah said, waving a hand. "I'm just saying. Are we going to check out that Victor guy, then?"
-------
Victor stared, his gaze flicking nervously between the five of them, hand forgotten in his bowl of popcorn. "Catch… legendaries?"
The Gym was closed during the day, but with a bit of asking around they'd gathered that Victor lived at the trainer hotel, in one of its ludicrous suites (he'd quickly assured them, face flushed, that it was Diana who'd put him up in there). They'd walked in on him as he was trying to watch a movie, and he seemed quite unprepared for having the entire War of the Legends story dumped on him.
"Yes. We're almost done now. It's just the Waraider herd, which we need some help on, and then Mew, who should be harder to find than to fight."
"And you're… Chaletwo, like actual Chaletwo."
"I could come out to prove it to you but I'd rather not."
"Okay." Victor nodded mechanically. "That's… that's fine. Um, so you've been… catching all of them?"
"Yeah," said May.
"And… and you think I could help."
"Hopefully. By the time Mark and May battled you, they'd already fought three legendaries more powerful than the unicorns are now. Can you leave your post at the Gym for a while?"
"I… sure, I think? I mean, I'm just Diana's assistant. She could go back to singles if she had to. But…"
"But what? This is a matter of the fate of the world."
"Yeah, I get that. I just…" Victor glanced at May, then back at Mark. "Well, yeah, I guess."
"You don't sound terribly enthusiastic."
Victor let out a nervous laugh. "Oh. Well, it's… kind of a shock, you know? I'm fine. Just need a moment." He took a deep breath. "Yeah. Why don't you go on down and take a walk? I'll have to talk it over with my Pokémon and call Diana to let her know I'll be gone, and then I'll meet you in the lobby when I've packed some things. Where are we headed?"
"Stormy Town, then Crater Town, then Sailance," Leah said. "I've got an Alakazam who teleports, but he hasn't been to Crater Town since the eruption – the spot he memorized is somewhere in mid-air above the crater right now, so we'll have to fly there from Stormy Town."
Victor nodded. "Right. Yeah, just… meet me in the lobby in an hour and I'll be ready."
-------
"Wow," said May, blinking as she looked around at the people in the street. "That's a change."
It really was. Where Stormy Town had once been dark, dreary and mostly empty, all deserted houses with boarded windows and peeling paint, it was now bright and lively, betraying little evidence of the ghost town it had been only months ago. It was cold, as expected for the beginning of February, and the sun was starting to descend overhead, but the sky was starkly clear save for a few stray clouds near the eastern horizon. At the end of the main street, the small Pokémon Center's polished windows projected a warm and inviting light, the exterior of the building newly renovated. Only the Gym beside it looked the same as always, merely blending in better now that its colourful, radiant joy had spread over the rest of the town.
"It's amazing," Alan said as he took it all in, a smile slowly forming on his lips. "I guess we really did save the town, huh."
Mark grinned. "Yeah, we did."
"Let's get to the Gym," May said, already turning towards it. "That's where Sparky would be."
The inside of the building was warmly familiar, but this time the door to the restaurant on the left side of the entrance hall let through a steady chatter of squabbling guests. When they entered, they found the Gym leader, sporting an apron over his regular blue T-shirt, serving food to a family sitting at one of the large, wooden tables.
Sparky turned around as the door shut behind Victor, and his face lit up when he saw them. The silver shades he usually wore rested on the top of his head, hopelessly tangled in his hair; his large, bright eyes only enhanced the youthful energy he projected.
"Well, if it isn't my heroes!" he said as he approached them, beaming with unbridled joy. He'd been unwaveringly cheerful before, but now he was positively glowing. "Come to look upon the fruits of your labor?"
Mark smiled. "Not exactly."
"It's great to see the town doing so well," Alan said.
"It's never been better," Sparky replied. "Everyone's coming back and business is better than ever. I can't thank you enough." He gave a little bow to them, adding a dramatic flourish with his hand. "And May! I was rooting for you at the League. You truly deserve the Champion title."
May smiled stiffly at Sparky, but he'd already turned to Leah, Robin and Victor. "Anyway, who – no, actually, you I know," he said, pointing a finger at Victor. "You're the boy that Diana took in, aren't you? Victor?"
Victor blinked. "Oh. Yeah, I am."
"Pleased to make your acquaintance. And who are you two? Oh, I think I've battled you. I'm dreadfully sorry I can't place your names."
"Leah," Leah said, shaking his hand. "How are you?"
"Wonderful," Sparky said, beaming. "And you're..."
"Robin."
"...Riverstone! I should have recognized you; you were one of my favourites at the League, too. I loved your Luxray." He eagerly shook her hand as well. "So, we're back to the original question," he said, looking over the group. "Why are such seasoned trainers returning here now?"
Mark glanced around the restaurant; there wasn't much room there for a private conversation. "Do you think we could talk somewhere?" he said, lowering his voice.
Sparky's face fell. "Not quite now, I'm afraid," he said. "The Gym may not be busy this time of year, but the restaurant is. I should already be getting back to the kitchen. Do you think we could do it tonight after closing? Ten PM?"
Mark looked to the others for opinions. Alan shrugged, but Leah hesitated. "Then we should probably go to Crater Town in the meantime, so we can head straight from here to Sailance tomorrow," she said.
Mark nodded. "Yeah, that makes sense."
"If you'd like to have some dinner first," Sparky suggested, "I'd be thrilled to have you on the house. We've expanded the menu considerably since last time you were here."
"Oh, that sounds great," Alan said, and everyone muttered their agreement. Mark hadn't even realized how hungry all that traveling had made him until now.
-------
That evening, they talked about Leagues and Pokémon and their journeys and their hometowns – things they could discuss in public. Mark had almost forgotten how good it felt to laugh with friends about something that had nothing to do with legendaries or wars or dangerous quests.
When they'd had their fill, they thanked Sparky and headed outside into the cold air. It was starting to get dark now, the sun slipping ever lower towards the western horizon.
"Right," Leah said, "I don't think all of us need to go to Crater Town. Better send a couple of people in case anything goes wrong, but I'm thinking the rest of us can stay here and ask around town if anyone's heard of any recent legendary sightings or something like that. So who's going?"
Mark swallowed. "I should go," he said. "Carl helped us fight a legendary, but I lied to him about what was going on. I want to tell him the truth now."
"Fair enough," Leah said. "Who wants to go with him?"
"I'll go," Alan said. "I was there too. I'd like to talk to him again, see how the people of Crater Town are doing."
"I'll go with you," May said quickly. She glanced at the others as they looked at her in surprise. "I was with them too. It's only right."
Leah shrugged. "Sure, if you want." She detached Felix's Pokéball from her belt and offered it to May, then to Mark when she didn't take it. He put the ball carefully in his left pocket.
May looked around uncomfortably, then squeezed her eyes shut and took a deep breath, turning. "Robin," she said. "Can I borrow your Charizard? He flies faster than Skarmory."
Robin stared at her for a second. "Yeah, all right," she said, half-sighing. She sent out her Charizard in a blob of white light. "Hey, buddy. Think you could fly May over to Crater Town with Mark and Alan?"
The Charizard looked at her, grunting questioningly. "You're not coming?"
"Not this time." Robin smiled. "We're going to ask around town while they talk to Carl. You'll be teleported back, so you'll only have to fly one way."
Her Charizard hesitated for a moment, glancing at May, but then nodded and lowered his wing for her to climb onto his back.
"Right," Mark said, reaching for Charizard's Pokéball. "Let's get going, then."
---
Previous chapter --- Next chapter
---
Comment on this? Please keep all comments strictly related to the fic only; any irrelevant posts will be deleted.
Not logged in - log in to submit a verified comment or submit one as a guest below. Note that your e-mail address will only be recorded for the purpose of notifying you if I reply to your comment. It will not be sold to third parties, displayed anywhere on the website, or used to send unsolicited e-mail. If you would rather not receive a notification upon a reply to your comment, simply leave the e-mail field blank.