The Quest for the Legends (ILCOEp)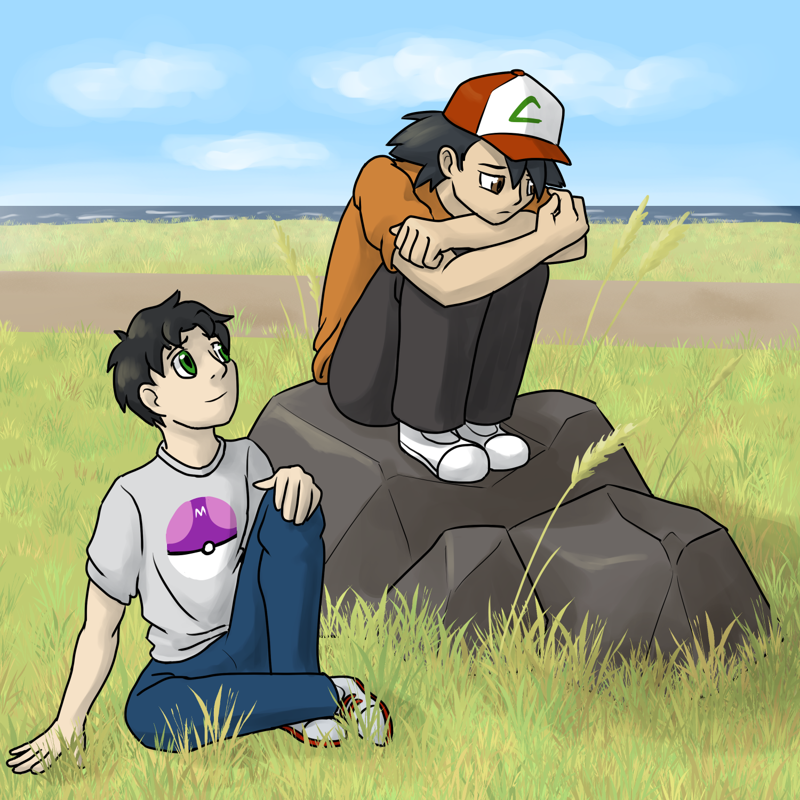 Chapter 66: Doubts
"Right," said Robin with a sigh as they ate lunch in a busy Scorpio City restaurant. "So what do we know about the Waraider herd exactly? I've never been super-into legendaries."
"They're eight unicorns of different types," Mark said. "Normal, Fire, Water, Electric, Grass, Ice, Psychic and Dark. Supposedly they're always together, and the legend says they keep the balance of the world and if they're ever separated nature will go out of whack."
Robin raised her eyebrows. "That doesn't sound like a fun fight."
"Is that even true?" May asked, looking at Mark. "It sounds like something people would make up."
"They're an elusive bunch," Chaletwo said. "I don't know them very well, to be honest, but the part about them keeping together is true, at least. Don't know exactly what would happen if they were separated, but I'd guess the keeping balance bit is probably a human invention."
"Didn't you and Mew create them?" Mark asked.
"Well, in a manner of speaking. We created Waraider, but then a couple of months later there were suddenly eight of them, and we had nothing to do with that. He must have created the others himself."
"Huh." Mark blinked. "Can any legendary create others?"
"Not normally, but their powers can be unpredictable. It wouldn't be the first time something like it has happened."
"Wait, so can we separate them or not?" Robin asked, furrowing her brow at Mark.
Chaletwo hesitated before answering. "Since we didn't create them, I don't know how their relationship works, but they do act pretty obsessively dependent on each other. Best-case scenario, being separated will make them very, very angry, and there are a lot of ways it could be a lot worse than that. I'd rather not test it."
"Why didn't you ask Waraider about the others, if they just suddenly appeared out of nowhere?" May asked.
Chaletwo sighed. "I did, but he was confused. Young legendaries don't have the best control over their powers. Maybe he made them by accident. Or he was just… well, you'd understand if you'd met them. They're pretty… strange, for lack of a better word."
"So how are we going to capture them?" Robin asked. "Putting them in separate Pokéballs would be separating them, right?"
"That's the thing. See, my thinking is that any adverse effects would directly or indirectly involve something going screwy with them when the others aren't all there, and that should mean it'll be fine if they're all captured simultaneously. If nobody's left to cause any damage, there's nothing to fear. But obviously that's not the easiest thing to accomplish in a fight."
Robin stared at him.
"Okay," Mark said, "clearly we really don't want a fight here, then. We want to talk to them and get them to agree to be caught, and then it'll be easy to get them all in Pokéballs at the same time instead of having to puzzle out how we'd get it done by force. And there's no reason to think they'd say no if we explain things to them, since they don't have any siblings they're paranoid about, or any reason to think Chaletwo would be lying to them, or any reason to not want the War stopped. Right?"
"It… may not be so simple," Chaletwo said reluctantly. "Like I said, they're weird. They don't like to do anything unless they all agree on it, and some of them are pretty nuts. We might get lucky and convince all of them, but I wouldn't count on it. And if we don't convince all of them, they'd probably rather all fight back than coerce the remaining ones."
"Wouldn't the less nuts ones try to persuade the others for something like this?" Mark said, but a familiar sensation of dread was already forming in his stomach.
"Again," Chaletwo said, "they're weird. They tend to operate on some strange moon logic. Don't trust them to be reasonable about anything."
Alan sighed heavily, grimacing. "So, in other words, we have to assume there might be a battle, again."
"We should have assumed that anyway," May said. "I'm sticking with what I suggested before: let's contact the other legendary hunters. We need more battle strength and more information, and they would have both. And the more people and Pokémon we have, the more likely we can win this fight."
"Do you think we should maybe contact Carl too, then?" Mark asked hesitantly. "He did help us catch one legendary, and I've felt kind of bad that we never actually told him the truth about what was going on. He'd probably be a huge help, and he kind of owes us a favour for helping save his town. And we can check on whether Volcaryu's safe."
"What about Victor?" May suggested. "He knew a bit of what was going on, from Mitch. We could go all the way with that."
"Mitch himself, too," Mark added. "And Sparky – we kind of saved his town as well, and he saw us fighting Thunderyu."
"Slow down," Chaletwo said. "We can't tell the entire region what we're doing. We know the other legendary hunters can be trusted; let's contact them first." He paused. "But fine, I suppose given those gym leaders already know something, it'd be a good idea to check on them if we can. And perhaps we could use some more help."
Alan looked between Mark and May, disbelieving. "So, what, that's it? Getting gym leaders to help us is fine? We could've done that all along?"
"It's an emergency, isn't it?" Chaletwo said defensively. "There's eight of them. We had enough trouble with three just earlier."
Alan exhaled, leaning back in his chair and folding his arms, but said nothing. Mark looked awkwardly around the table; everyone seemed to have finished eating, at least. "Well, since we seem to agree we should try to get in touch with them, what's the best way to do that? Mitch is right here in town, at least. We could go talk to him now."
"Leah had a Pokégear. I saw it on her wrist," May said. "You can look up Pokégear numbers in a directory online. We should be able to do it on the Pokémon Center computers."
"That sounds good," Robin said immediately. "How about Mark and Alan go see if Mitch is around, and meanwhile May and I take our Pokémon to the Pokémon Center and try to get in contact with that Leah person?"
May glanced warily at Robin for a moment before nodding. Mark looked at Alan; he gave a small shrug, still averting his eyes.
"See you, then, I guess," Mark said as he stood up and handed his Pokéballs to Robin, and Alan followed him without a word.
-------
The air outside was cool and calm, and Mark felt himself growing a bit less tense as he breathed it in – they really did only have two legendary encounters to go, and if they amassed several more experienced trainers, perhaps battling the Waraider herd wouldn't be so daunting.
Beside him, Alan sighed. "This is such a mess."
"What?"
"Everything," Alan said, his voice hard. "This has all been one huge screwup from the start. Fight all the legendaries, except we could have just explained things to them, except once we start trying to explain they won't listen. Fight many legendaries at a time, except some math principle says it's practically impossible. Go to the League to train, except while you're there Tyranitar goes and murders someone. Don't tell anyone about the plan, except now let's call in a bunch of people who could have saved us a lot of trouble if they'd been helping us in the first place. Go to the Acaria mountains, except that was all a lie to waste our time. Then nearly get killed by some murderous dragons, just for kicks. Oh, and the entire principle behind what we're attempting is just guesswork. Good luck!"
"Alan," Chaletwo responded acidly before Mark had the chance, "I'm glad you've found yourself in being a cynic, but at least we're trying. You didn't think of any of these things either. It's not that hard to overlook some possibilities –"
"I know!" Alan exclaimed, throwing his arms up in frustration. "I didn't think of it either, and that makes me every bit as much of an idiot as you."
"Well, what do you want us to do about it? If you have better ideas, be my guest, but if you're not planning to make any suggestions, stop complaining."
"I don't have better ideas," Alan said, his voice growing quieter. "I just… We're so bad at this. It's been a string of mistakes and failures, even if we've stumbled into some lucky victories along the way. We have no idea what we're doing, and we're in way over our heads. Robin could've died earlier and so could I, and even before that there was Dragoreen taking you hostage, and then she just… toyed with us for several weeks for her own ends, and we bought it hook, line and sinker. God, we're the world's worst heroes."
"Well, we're not doing this to be the world's greatest heroes," Chaletwo snapped. "We're doing this because it needs to be done. Is this some kind of vanity project for you? Because I'm starting to miss when you were gone, and if you don't actually care about our mission I'm sure Robin can make up for your absence."
Alan looked like he'd been slapped, staring at Mark in a mixture of anger, frustration and deep, deep hurt.
"Alan, it's –"
"Sorry," Alan said. "Just... sorry."
And he turned around and walked away without looking back.
Well done, Chaletwo, Mark thought.
"Do you think any of that was fair?" Chaletwo responded, the heat still present in his voice. "We've worked hard to get here, we've almost done it despite all the problems on the way, and now he starts complaining we're not heroic enough, whatever that's supposed to mean? I'm sick of him imposing his lofty standards on what we're doing as if – as if any of that matters when we have a world to save!"
Mark looked after Alan – he was still walking quickly straight down the street, without looking to either side – and sighed; he kind of wanted to go after him, but he didn't know what to say, and he suspected Alan wanted to be alone for now.
"Let's just see Mitch, all right?" he said and headed off in the opposite direction.
-------
When he reached the gym, however, it was locked. A note, scribbled in messy, jagged handwriting and hastily stuck to the door with duct tape, apologized for any inconvenience caused by the temporary closing, but provided no explanation.
"I guess that's a dead end, then," Chaletwo said.
"It's weird, though," Mark said. Something about this nagged at him. "I'm going to look around a bit."
"It's not that important to check up with him. We already know how much he knows, and it's enough for him to know he shouldn't be prying into it further or telling people about it. And he's a low-level gym leader anyway."
"Yeah, we don't need to check on him," Mark said. "I just think we should."
He walked around the side of the gym, peeking in through the windows. The ones in the battle arena showed it to be empty, but as he peered into the back room on the right side of the building, he found the light on. He knocked carefully on the glass a few times.
A shape rose with a start from the sofa below the window. Mitch's face came into view, his eyes wild and haunted; his gaze darted up and down the street before it fixed on Mark.
Mitch reached over to the window and opened it, blinking blearily at the sunlight. There were dark bags under his blue-green eyes, his face sallow and pale, his silver hair unkempt and messy. "What is it?"
"Are… are you all right?" Mark asked.
"Yes," Mitch said, too quickly. "How are you?"
"I'm okay," Mark said, hesitant. "Can we talk? I think you might be able to help us with... the thing I'm doing for Chaletwo, if we let you in on it."
Mitch surveyed him for a few seconds; yet again there was that strangely unnerving, tantalizing stare of his, that desperate shine in the depths of his pupils. For a moment, Mark was shaken with a sudden feeling that he was sure Mitch's eyes weren't this color last time he'd seen him, but then Mitch looked away again and it was gone. Mark blinked, snapped out of a trance.
"I don't think I can help you with anything," Mitch said. "I'm sorry."
"Well, couldn't you at least hear us out?" Mark said. "We'll explain what's going on."
"No. You shouldn't tell me anything. I wish I could help, but I can't. I'm very, very sorry."
His voice was tight and pleading, and it struck Mark suddenly that he sounded afraid. "What's going on?" Mark asked, unnerved. "Why?"
Mitch closed his eyes for a moment and took a deep breath. "You know what's been happening to me. It's gotten worse – a lot worse. I'm not sure what's real anymore. I don't need any more information to process right now."
Mark stared at him. "Have you tried getting help?" he asked. "Like a psychiatrist, I mean?"
"I did once," Mitch said, wincing uncomfortably. "It didn't help."
"Locking yourself up in your gym isn't going to help either," Mark pointed out. "You should see someone."
Mitch looked at him for a long moment, not quite making eye contact this time. "Yes, I suppose you're right," he murmured. "Thank you."
"Is there anything I could help you with?" Mark asked.
"No, no, it's... I can call someone."
Mark nodded, wary, not taking his eyes off Mitch. Chaletwo, he thought, is there something... can you feel, like, if some Psychic Pokémon's been messing with his head, or something like that?
"I'm not sensing any psychic interference, or anything else out of the ordinary. Whatever's going on with him, it's all him."
Well, there's definitely something really weird going on here. Mark paused, a crazy idea taking hold in his head. What if, like, Mew were anchored to him, like you are to me, and he was –
"If Mew were anchored to him like I am, I could sense it. Or any other legendary, for that matter. You're barking up the wrong tree."
Behind the window, Mitch's gaze flicked restlessly from side to side and occasionally back to Mark, but he remained silent.
"I know it seems cold to say this," Chaletwo said, "but he may just really be crazy. He did say he's losing his grip on reality, and if you ask me he's always seemed a little unbalanced. Maybe living under a fake identity has been slowly driving him mad all these years, or something."
He really has psychic powers, Mark pointed out.
"Well, some humans do. And that's another possibility – maybe he's just a strong natural psychic, but for some reason it only started to kick in after his near-death experience, and it's a bit overwhelming for him. In that case nobody can really help, but he should eventually reach the full extent of his powers and get used to it."
Mark considered it, biting his lip. Something about this still didn't sit right with him, but he wasn't sure what he could do about it, if anything, and if Chaletwo was confident it wasn't some Pokémon messing with him, what else was there?
"I'm glad you're going to get help," he said to Mitch at last. "Get better."
Mitch nodded, unfazed by the lengthy pause in the conversation. "Thank you," he said again, giving a forced smile. "I'll… make another attempt."
"Goodbye," Mark said. "Try to do it soon."
"Goodbye," Mitch said, and he shut the window and disappeared behind the back of the couch again.
-------
If I find Alan, Mark thought as he walked back the way he'd come, are you going to let me talk?
"What do you mean, let you talk? When do I ever not let you talk?"
You know what I mean. Don't comment. I want to try to calm him down, and you probably wouldn't help.
"Fine," Chaletwo said. "But can you tell him not to try to bring everyone down with his stupid pessimism?"
He's obviously stressed out. Stop making it worse.
Chaletwo didn't respond to that.
Mark continued down the street, looking from side to side. Where would Alan go when storming off? Normally he might have guessed the Pokémon Center, but May and Robin should be there right now, so if he wanted to be alone, that wouldn't be it.
Instead, he just followed the street straight onwards, all the way to the edge of town. He was about to turn back when he spotted Alan sitting on a rock by the roadside a bit further ahead, hugging his knees with one arm while stroking the tall, yellowed grass growing around him absent-mindedly with his other hand.
"Hey," Mark said as he came up to the rock. "You okay?"
Alan shot only a brief glance in his direction before returning his gaze to the distance ahead, where the tiny village of Merville bordered the calm ocean. For a second he was silent; then, quietly, he muttered, "I'm not sure I want to do this anymore."
Mark stared at him. "What do you mean, you don't want to do this?"
"It just... makes me feel bad." Alan paused, still not looking in Mark's direction. "I'm angry all the time, and everything we do just angers me more. I'm tired of pretending nothing's wrong. I don't want to feel this way."
Alan grabbed a long grass stalk and pulled at it, his knuckles white; it didn't budge, and he unclenched his fist in defeat and let it go again.
"Do you… do you know why you feel like that?" Mark asked after a few seconds.
Alan paused for a long moment. "Maybe Chaletwo's right," he said eventually. "Maybe this really has been a vanity project for me. My dad's always been this big celebrity hero, and I… wasn't. On my own journey I just sort of wandered around without even the drive to participate in a League, and I didn't feel like I'd really accomplished anything. When I came with you I thought I was finally going to do something amazing and important like him, but here we are bumbling around with no idea what we're doing, making one stupid mistake after another, and I just... I don't feel very heroic."
Mark wasn't sure how to respond to that. He'd never really thought about what they were doing in those terms. Heroes were people in stories, people with special destinies. People who were fated to succeed.
"And every time something bad happens," Alan went on, "I feel like I should have seen it coming and done something about it. I think that every time, that from now on everything's going to go right because I'm going to pay attention and spot the flaws and fix everything, but it doesn't work. I can't fix anything. I don't even notice things that need to be fixed until it's too late." He sighed, fiddling with the grass again. "And who was I kidding? I couldn't even be a proper Pokémon trainer."
"What are you talking about?" Mark said, dumbfounded. "You don't need to take part in a League to be a proper Pokémon trainer. Loads of trainers never do."
Alan hugged his knees with both arms. "I had more Pokémon," he said, quietly. "Charlie and Racko and them are the ones that stayed behind. The others wanted to go to the League. And I guess they found new trainers who did, eventually. People like you and Robin." He grimaced, his voice turning bitter. "Or even May."
"There's no shame in releasing your Pokémon when that's what they want," Mark said. "I released Letaligon while you were gone – even Scyther was maybe going to leave the night that you came back, even though he ended up staying. And didn't… didn't your dad release a bunch of his Pokémon, too?"
Alan made a small noise of dismay. "That's… that's different. Letaligon wanted to get stronger and evolve and then go to fight her father. You did that for her. You took her to the League and helped her evolve and then took her back to Ruxido, exactly like she wanted. She didn't leave because you'd failed her." He shot a glance towards Mark out of the corner of his eye. "Even then," he went on in a murmur, "when I was a kid and my dad told me about all the Pokémon he'd released on his journey, I always thought I could do better. I could be an even better trainer and then they wouldn't want to leave." The conclusion hung unspoken in the air.
Mark stepped closer, facing Alan, his mind racing. "I… I think I get it," he said slowly. "Sandslash once told me that most Pokémon grow up wanting a trainer who'll just take them to the League and make them strong and then release them, and that really good trainers are the ones who can make them change their minds. I think you said something similar once too, right?"
Alan winced silently, not moving.
"I don't think you should expect to change every Pokémon's mind, though," Mark said. "They're… they're not all going to want the same thing, right? It's not a measure of how good you are; it's about who they are and what they want. Scyther decided to come back instead of staying with his swarm, but I don't think that means I'm a better trainer than if he hadn't."
"I know," Alan said, sighing. "Like I said, it's something I thought when I was a kid. It's just…"
"And I mean, six of your Pokémon did want to stay with you. I think that makes it pretty clear you were the best kind of trainer, even if some of the others chose differently. And for the ones who didn't want to stay, you respected that and released them. I don't think there's anything better you could have done."
"I could have taken them to the League like they wanted," Alan replied, his voice dull.
"But you don't have to take everyone where they want to go," Mark said. "I'm sure some of my Pokémon want to continue training after this, but after the League I realized I don't want to." Alan looked up at him in vague surprise. "Just like they don't have to stay with you if they don't want to, you don't have to go to the League if you don't want to. What you want matters too, and if you and your Pokémon want different things, you have to split up."
Alan stared into the distance, thinking. "Do you think I'm too self-sacrificing?" he said after a while.
"I guess maybe, sometimes," Mark said. After a moment of thought, he sat down on the ground beside the rock. "That's not… it's not exactly a bad thing, though," he went on. "I mean, being selfless is a good thing. But you're allowed to think of what you want, too, and you shouldn't beat yourself up about quitting training when you weren't into it anymore. I'm sure your Pokémon understood, even if they were disappointed."
Mark glanced up at Alan; he was still gazing unseeingly towards Merville, but there were tears at the corners of his eyes, and Mark quickly looked away again.
"So," Alan said quietly after a minute, "if I quit now, you'd understand?"
Oh. Mark hadn't thought of it that way around at all – but now, the answer was inevitable.
"Yeah." He exhaled, looking back up at Alan. "If that's what you need to do."
Alan nodded slightly. "Thanks," he said. "That actually means a lot."
They sat there for a few minutes more together, silent, watching the soothing waves of the ocean in the distance.
"I didn't know you were going to quit training," Alan said after a while.
Mark took a deep breath. "Yeah. Thinking back, I never really wanted to be a trainer that much, you know? I just… I just wanted to get out. I wanted to see the world and meet Pokémon and maybe see a legendary if I was lucky. And then all my friends got to be trainers and I didn't, so I guess I kind of latched on to it. But battling isn't my thing and it never has been. It's been fun, and I'm glad I got to experience it once, but when this is over with I just want to go home."
"When I was a kid, I was really excited to be a trainer," Alan said, something bitter and hollow in his voice. "I was so sure I could be even better than my dad and would do everything right. But then, as I failed to live up to that, I just started to hate it. I loved my Pokémon, but I couldn't stand not being that great."
Mark blinked. "That's why you quit?"
Alan nodded, his fingers tightening around his knees. "I got my eighth badge, and then I just… I knew I wouldn't be any good at the League and it'd just make me feel worse, and I couldn't handle it. So I ended up quitting with nothing to show for it, after all that time and effort. And my Pokémon suffered for it."
"Well, again, I'm sure they understood."
Alan considered it, wincing. "Maybe. They said it was okay, but I never told them… I said I'd just decided training wasn't for me, and I could tell they didn't quite buy it. I just couldn't… I couldn't tell them I was betraying them for something so petty." His hands clenched into fists.
"It's not petty if it's really affecting you like that, though," Mark said. "If quitting helped, then that was the right thing to do."
Alan let out a long sigh, rubbing his face with his hands. "Well, that's the thing. It didn't really help, did it? I feel like even more of a failure for quitting than I did before. So I guess the real lesson here is trying to run away from things doesn't actually help me." He shook his head. "I mean, God, I know I'd never forgive myself if I left you when you're trying to save the world. I just…"
"If you're worried about us thinking you betrayed us or it's petty, it's not –"
Alan shook his head again. "No, it's not about you. It's just the way I am. But thanks for saying that."
Mark looked up at him, not sure what to say. The older boy nodded slowly to himself, lost in thought, before his expression hardened, his back straightened, and he lowered his feet into the grass.
"Really, thanks," Alan said, meeting Mark's gaze at last as he offered his hand. "For… for listening and making it seem like I had a choice. It helped."
"Do you feel better?" Mark asked.
Alan took a deep breath. "I think so, a little. Maybe we really can do some good, in our bumbling, unheroic way."
"I hope so," Mark said, smiling.
Alan gave a wisp of a smile in return as he looked back in the direction of the town.
"I think you should tell your Pokémon why you really quit," Mark said, and he turned around again. "They're your friends. They'll get it."
Alan hesitated for a moment, then nodded. "Yeah. I think I will. Thanks."
And they walked towards the Pokémon Center together.
---
Previous chapter --- Next chapter
---
Comment on this? Please keep all comments strictly related to the fic only; any irrelevant posts will be deleted.
Not logged in - log in to submit a verified comment or submit one as a guest below. Note that your e-mail address will only be recorded for the purpose of notifying you if I reply to your comment. It will not be sold to third parties, displayed anywhere on the website, or used to send unsolicited e-mail. If you would rather not receive a notification upon a reply to your comment, simply leave the e-mail field blank.