My third 'I'm making it up as I'm going along' fic, with just the first few Chapters planned.
Warning!: Contains spoilers for up to chapter twelve of Dragonfree's Morphic! (I might add more to this bit if I decide to add stuff that require it.)

Prologue

A young adult man, about twenty in age, is sitting in front of a computer, the screen is showing the main page of the Cave of Dragonflies, the title of the update says 'Morphic final chapter up'.

'Finally!' He thinks, 'after all those years, Dragonfree finally finished it!' He has been following the story intently ever since he found it, he almost cried when Brian died, in chapter 12, even though he was certain Katherine was right, he loved the Morphs, they had sparked his dream of creating Pokemorphs, now, he could finally relies it. "Dragonfree, thank you!" he said before opening the chapter.

SEVEN YEARS LATER

She awakened. She opened her eyes and looked around, she was suspended in a green fluid, surrounded by wires, she moved some wires and looked out, she saw a male scientist by some machines, when he saw that she had awakened, he smiled and pushed a button. The fluid retreated, the wires detached, and so did the mask that she didn't realize that was there. Once the fluid had completely retreated, the containment unit opened and the two year old girl fell out, she looked completely normal, she had tanned skin and Blond-Brown hair, her eyes were a sparkling green, but she had a weird metal panel instead of skin on her left arm, starting just bellow the wrist and ending about half way to the elbow, other than that she was perfectly normal. The scientist ran up to her.
"Are you alright?" He asked with concern.
"Yes, I am," She answered looking up at the man, "Father."


============================================================
So, what do you think? Whats the device? Who's the man who read Morphic? I'll answer those in the next chapter!
---
Please check out my Fan Fics (They're in this forum).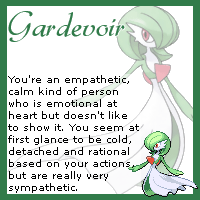 I'm not always rational, but I think people think I am.
… errazib nialp tsuj era serutangis emos ,wonk ouy.
Buisle is the ruler of the seven seas of sand, it is the terror of all Floatzel!
Man, I wrote Fics of three different Pokemon story types! What's next?! A wild Pokemon fic?! Hmmmmm…
[04/19/2010 14:44:32]