Chapter 10: Omer.

Chris walked up to the gym, it was a huge building with an opening glass roof for Pokemon who can fly.

As Chris entered, a man wearing glasses stepped forward to greet him," Welcome to the Lonorock city gym!" He exclaimed enthusiastically," I presume you're here to challange the gym leader, am I right?"

"Ah, yes, yes I am." Said Chris, slightley taken aback by the man's behavoir.

"Then you should get going! You must get through the maze, battling trainers and stepping on switches to get through! Good luck!"

====================================================================================

A few hours later, Chris managed to finally reach the end of the maze, at the far corner, there was a young man standing at the opposit end of a large areana.

"Welcome!" He shouted, beconning Chris to come forward," I'm Omer! The leader of this gym! I suggest you heal your pokemon before we battle!" He pointed at a healing machine next to the wall, after healing his Pokemon, Chris returned to his place and the battle began.
Chris sent out Ivy and Omer sent out Raichu. Ivy, having learned Sludge Bomb before hand, won quite quickley, barely taking any damage from Raichu's Thunderbolts, Omer's second and final Pokemon was a Cruesi, the battle was long and hard, the two Pokemon exchanged Pecks and Razor Leaf with each other, eventualy, Ivy fell, but Cruesi was weak and Paralyzed from a last moment Stun Spore, Uri managed to win with a fast Mega Kick.
For his victory, Chris got the Volt Badge, giving all his Pokemon a speed boost, Chris pinned the lightning shaped badge on one of his glove's fingers.

================================================================================

That evening, Chris returned to the hotel with a brown-green Pokemon egg in his arms, which he got earlier from the Pokepicker.

——————————————————————————————————–

So, what do ya' think?
---
Please check out my Fan Fics (They're in this forum).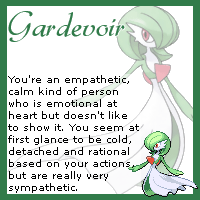 I'm not always rational, but I think people think I am.
… errazib nialp tsuj era serutangis emos ,wonk ouy.
Buisle is the ruler of the seven seas of sand, it is the terror of all Floatzel!
Man, I wrote Fics of three different Pokemon story types! What's next?! A wild Pokemon fic?! Hmmmmm…
[06/26/2009 15:18:07]